Our Founder: Thomas Walsh
There are certain people who make a mark on their friends, family and community that will never fade. Thomas Walsh, Tom, or T.J., as he was known, was one of those people. As the founder of Walsh LLP, he's responsible for the very existence of the firm – but in truth, he's responsible for much more. Tom instilled a set of values and a way of doing business that continue to be the hallmark of the firm he created.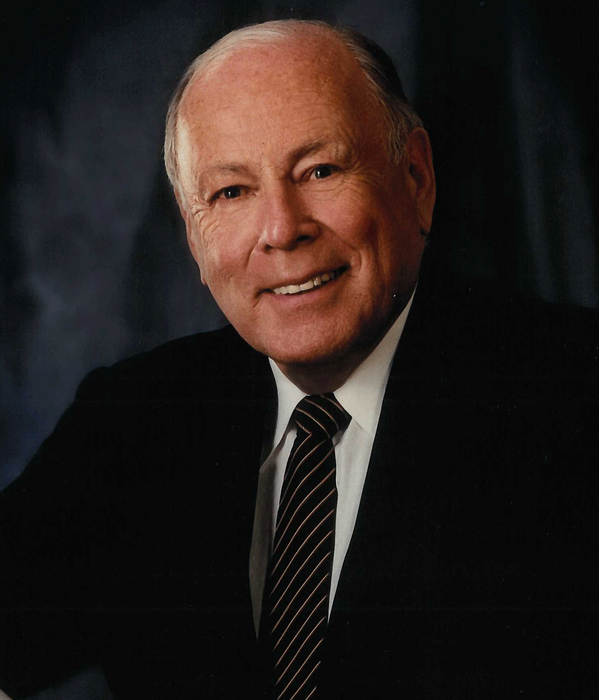 Tom was a legend in the legal community and a standout citizen of Calgary. He was born on March 2, 1927, to a CPR Station Agent and Registered Nurse in St. Boniface, Manitoba. After spending his youth in Manitoba, Tom travelled west to earn his Bachelor of Arts, LL.B. and Honourary Doctorate of Laws from the University of Alberta. From there, Tom moved to Calgary and met the woman he would lovingly call his "bride" forthe decades to come, Anne Walsh.
They moved to Calgary andWalsh LLP was established in 1959. Tom can be credited with founding a firm with the clientcenteredphilosophy and approach that continues at Walsh to this day. From 1959 to the end of his career, Tom enjoyed a number of significant achievements, including receiving the Order of Canada, Alberta Order of Excellence, Honorary Doctorate of Laws from the University of Alberta, Canadian Bar Association's Distinguished Service Award, Diamond Jubilee Medal, Queen's 50th Anniversary Golden Jubilee Medal and a place on the top 20 Power List in 2003. While these accolades speak volumes about Tom's contributions and commitment to his community and legal career, Tom'sfive children and his bride remained his most significant source of joy and pride during his lifetime.
Creating The Walsh Experience
For clients, lawyers and support professionals, what we now know as the Walsh Experience was established by Tom over 60 years ago. Tom envisioned a firm that would offer a broad base of legal services, an unparalleled level of work and an approach that was always empathetic and human centric. While Tom had many opportunities over the course of his career to grow Walsh into a much larger firm than it is today, he consistently guarded his belief that Walsh should always remain small enough to ensure it was a collegial and community-focused place where the entire staff could enjoy a healthy work-life balance.
Giving Back
Tom was a man of unbelievable heart and energy. Beyond his personal and Firm families, Tom always found a way to give back to the larger Calgary business, philanthropic and cultural communities in whatever way he could. Throughout his life, he served as a bencher with the Law Society of Alberta, a president of the Canadian Bar Association, founding chairman of the Calgary Parks Foundation, chairman of the Calgary Chamber of Commerce, president of the Rotary Club of Calgary (Downtown), board member of the Calgary Stampede Foundation, chairman of the Calgary Airport Authority and countless other volunteer positions.
Treat Everyone Like Family
Family First
While Tom was immensely driven and entrepreneurial, he never lost sight of what mattered most: family. In fact, he instilled that same fundamental value within the entire staff of Walsh and created a culture where the Firm family feels nearly as close as the personal one. It's not a surprise then, that many Walsh lawyers have spent their entire careers within the Firm.
For Tom, family was about love, support and inclusion, and he ensured that Walsh mirrored that same philosophy. His vision created a workplace that was, and continues to be, rooted in mutual respect and support. Tom made sure everyone knew that if you worked at Walsh, you always had a someone in your corner.
Family also meant doing the right thing. Tom used to proudly boast about having one of the very first female partners in all of Calgary. Today, he'd certainly be proud of Walsh LLP's growth and trajectory, where individuality and a difference of opinion are met with understanding and respect. Tom's values, vision and fierce rejection of the traditional hierarchical structure of law firms created an environment where balance, inclusivity and compassionare at the core of our foundation and culture.
For Tom, It Was Personal
Practicing law for clients, and with colleagues, was a deeply personal thing for Tom. He believed that personal relationships and contact were paramount and integral to transforming a Firm into a family and to providing the unique solutions clients deserve. To this day, Walsh LLP is a very different place to work and work with than almost anywhere else.
Discover the Walsh LLP of Today
While a great deal has changed since Tom started Walsh LLP in 1959, his vision and spirit live on within the walls of our offices. Learn more about the Firm proudly continuing his legacy.
When it's time to talk, we're ready and waiting. To schedule a consultation with one of our lawyers based in Calgary, Okotoks, or Stand Off, fill out the form below or call us at 403-267-8400 or toll free at 1-800-304-3574.